History
The company MediaTech Central Europe was established in 1994. The company has built a reputation of one of the berst comapnies in the Audio Video technolovies and Digital Media field in Slovakia Employees of MediaTech Central Europe visit every year a lot of certificated trainings and this way they can integrate their latest knowledge of Audio Video technologies and Digital Media into the customer's projects making them satisfied customers.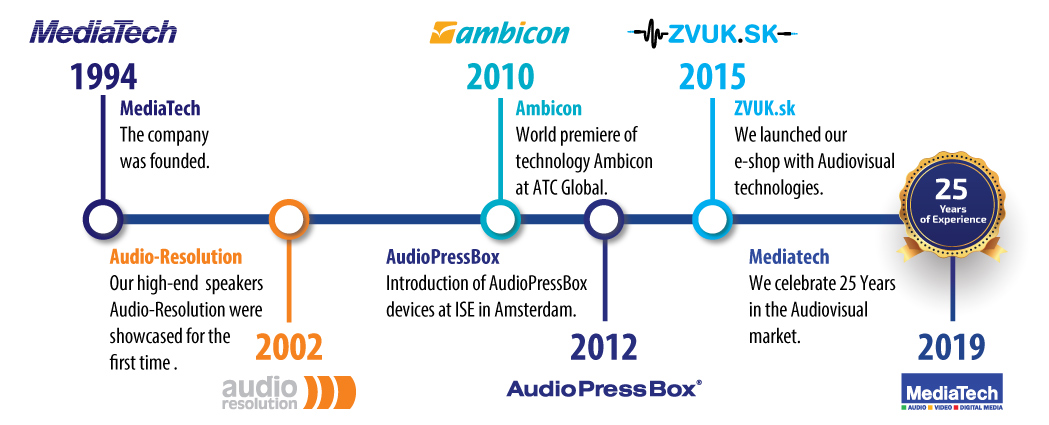 Mediatech Group
As a part of expanding and improving of our services we have expanded the field of our work as well. We have created new divisions which together make the MediaTech Group. The leader of MediaTech Group is Mediatech Central Europe. The other members are AudioPressBox®, Audio Resolution®, Ambicon® and e-shop ZVUK.sk.
References
MediaTech is expceptionally proud of its project of sound reinforcement system of Bratislava castle and all the events connected to the Slovak presidency of the Council of the European Union in 2016. A complete audio and video project of conference rooms of Faculty of Informatics and Information Technologies of Slovak University of Technology, the Hall of Fame of Slovak football team, The Slovak Museum of Nature Protection and Speleology.
MediaTech has the ISO 9001:2015 and ISO 14001:2015 certificates which quarantee our professionalism. MediaTech Central Europe is also the only Slovak Member of Avixa which connects the best audio-video companies worldwide.